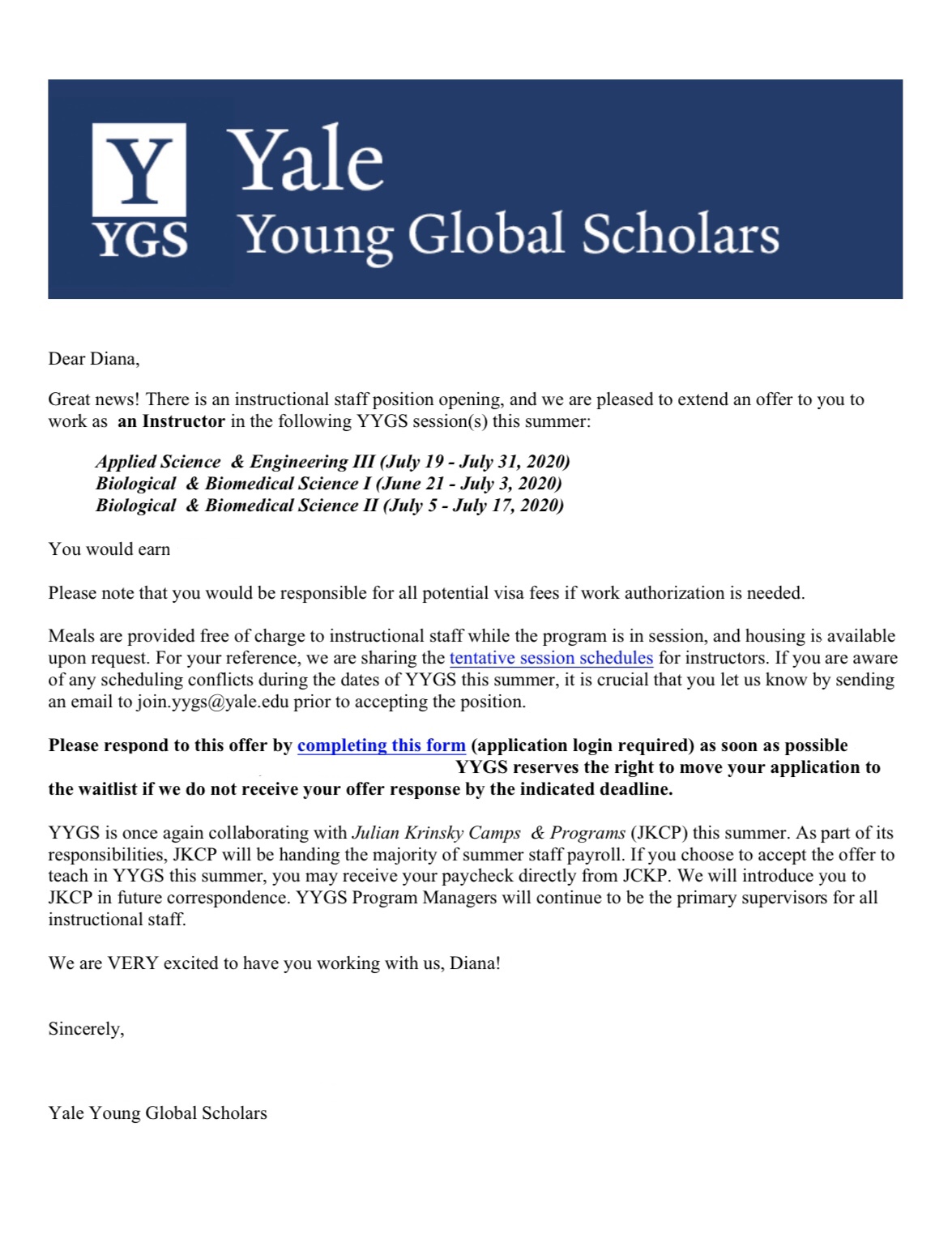 I am honored to write that I have been offered a position as an instructor of Biology and Applied Science at Yale' university's Young Global Scholar Program. This incredible program located at Yale University hosts students and instructors from across the globe and focuses on providing lessons and seminars on a variety of interdisciplinary subjects. With three different sessions running throughout the summer, YYGS offers programs in Applied Science and Engineering, Biological and Biomedical Science, Literature, Philosophy, and Culture, Politics, Law, and Economics, as well as on Solving Global Challenges. Covering such an extensive array of fields, students from all academic backgrounds receive an immersive program curated for expanding and relating to current knowledge as well as introducing new subjects.
Having the opportunity to work as an instructor, I am excited to empower students by providing them with tools to make a proactive change in currently trending subjects within the field. This program is truly novelle and ahead of the curve by supporting instructors and providing them with the freedom to research and develop seminars and lessons on what we believe will captivate and engross the students. So far, I have developed a seminar on combating the misconceptions of natural selection & evolution, as well as on the implications of biodiversity loss and plant invasion on ecosystems. Having worked in a lab and done extensive research on restoration ecology, I believe that introducing students to the repercussions of plant invasion on the environment will contribute to early intervention and ecosystem preservation.
Students need to be supported by teachers. Curating engaging lessons while gauging their learning as the lesson goes on is essential to students' success. I have previously discussed how important it is to include teaching that includes different forms of learning (for auditory, visual, kinesthetic, etc. learners), and I think that the line does not stop there. Often times, students with different forms of disabilities are not accounted for in lesson preparation and feel discouraged. I believe that as an instructor, it is fully my responsibility to embrace a pedagogy that assists students by curating accessible lessons. By reading and incorporating the information from Yale University's links, I am attempting to create lessons that are accessible to the diversity of students that I will be teaching. If you know of any other website or link that can help me provide engaging and accessible seminars and lessons, please share them with me as I am eager to read them!
Academia was not always an easy path for me, but it was certainly lightened by the incredible teachers, professors, mentors, lab members, and teaching assistants that I met along the way. Just as I was assisted by my many instructors, I too hope to support and guide my students through their academic journeys in a way that allows them to access their true potential.